Australia's finest collection of performed
racing pigeons

Enquiries welcome: Contact Tim Fawcett mobile 0400 400 324
email:
pigeonsalesaustralia@hotmail.com
---
Welcome to our webshop, we currently have some outstanding producing hens for sale. These hens have been top producers for us and others and we have children from them all in our stock lofts and offer them up for sale. They will enhance and improve any stock loft they enter. The results from these hens are outstanding.
To purchase any of the birds simply call or SMS M: 0400 400 324 or email: pigeonsalesaustralia@hotmail.com
No 1: SA 10 20129 BCH-Gaby Girl. G Vandenabeele. Outstanding direct daughter of the top Lu Bros pair White Toes & Blue Kadet. This hen was a top producer for Greg Hamilton, we purchased her around two years ago.
Dam of 8th SAHPA Colac 1500 b. 660 km 2013, 6th Open SAHPA Keith 220 km 3464 b, 15th SAHPA Marree Sires Produce 2012 560 km.. G/dam of SAHPA places for G Hamilton & top birds for David Winkler including Ashlyn in 2016 won $5500 dollars &flew the program & ASHTWO which was 2nd ace bird right up to the final smash race.A brother to ASHLYN was 7th in the Gympie 10000 in 2016, 1st club 500k race in 2016 @ 1000mpm by 7minutes. PRICE $1200 Pedigree>>
(PICTURE TO FOLLOW)

No 2: LM 11 2622 BCH-Murray Miss. C&G Koopman. A truly outstanding breeder for us for a number of years. Bred from W March No 1 pair. Dam of 1st club 4th Open SAHPA Carrieton 250 km 4145 b 2013, 1st club 11th SAHPALyndhurst Open 3855 b., 20th SAHPA Marree 5 Bird Special 2016 565km, 23rd SAHPA Open Hawker 2016 3543 b, 3rd SAHPA Vin Blanden Memorial Cooberpedy 725 km 2013. G/dam of 1st MNC Fed Cleveland 315 km 2014, 1st MNC Fed Bundaberg 650 km (only bird on day) 2014, 1st MNC Fed Cleveland 315 km 2015, 7th MNC Fed Cleveland 315 km 2015, 9th MNC Fed Gympie 460 km 2015, 24th SAHPA Marree 5 Bird Special 2016 565km, 5th VRPU Coombah, 11th VRPU Mildura, 18th VRPU Yolla Tas, 21st VRPU Cobar National (23 birds on day), G/G dam of 2nd VRPU Yolla Tas 400 km 2016. PRICE $1000 Pedigree>>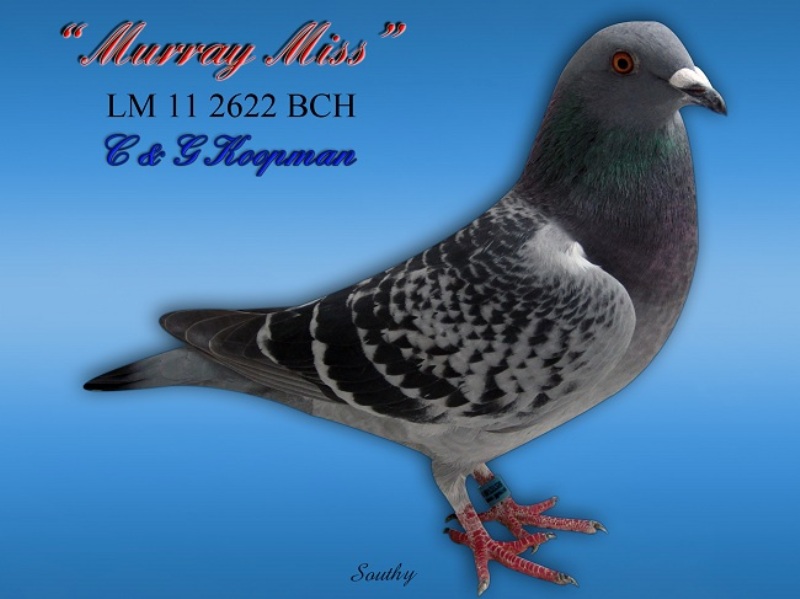 No 3: AUST 12 30932 BGRZH-Silver Dolly. Van Loon/Janssen. Silver Dolly. Top race hen in 2013 gaining 47th SAHPA Open Carrieton 4145 b 260 km, 46th SAHPA Cooberpedy 720 km 3099 b. Sister to 2nd SAHPA Open Bookaloo Verco 330 km 1081 b. 2015 Dam of 1st APC Parachilna 410 km & 2nd APC Lyndhurst YBC winning over $12500 for A Szabo & D Male in 2016 , 2nd club 42nd SAHPA Open Parachilna 2016 3432 B, 22nd SAHPA Ouyen 330 km in 2014 . PRICE $600 Pedigree>>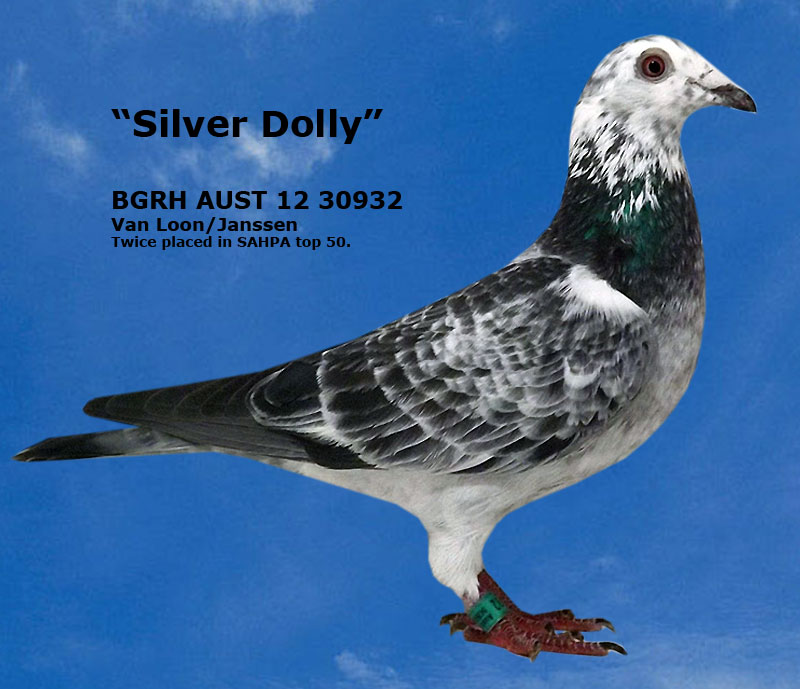 No 4: AUST 10 21646 BGRZH-Silver 46. Van Loon-Original G Hamilton top producer for Brian Donovan and Dam of 1st SAHPA Open Parachilna, 3rd & 22nd SAHPA Open Parachilna, 18th SAHPA Glendambo, 7th SAHPA Colac, G/dam 6th SAHPA Lyndhurst, 5th SAHPA Cooberpedy Cock Special. PRICE $600 Pedigree>>